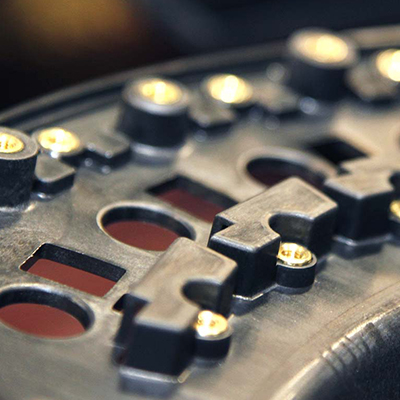 Flash can occur during injection filling or during the pack/hold stage, and it can occur any kind of conventional parts ,especially easy happen of thin-walled parts with high MFI material . Discovering in when flash occurs helps to be responsible for the problem simplification . A simple test is to bring the pressure to the minimum the machine allows, Limitations lie is the plastic pressure should be below 500 psi . The aim is to see the effect of just barely filling the cavity. First step is injection fills 92% to 99.9% of the part, but the cavity is full then stop there. At the minimal pressure level we can easy to inspect If there is flash happen on the short shot,then we should do is focus on parameters adjust during injection. If no flash happen after a short shot, then we should go to another way to adjust the transfer point to avoid over-filling the cavity.
molding flash
When designing your plastic parts, as far as possible to reduce the thin-walled section, resulting in a thicker wall section, the entire product into a uniform wall thickness of the parts.
The rapid change in wall thickness is the most common cause of flash, due to the production process of plastic materials under pressure, through the liquid state to fill the injection mold.
If the product design in the thick and thin wall thickness of the part is necessary to exist, the use of different injection point to help the flow of materials.It is very important to control the location of the gate, especially in the tight tolerances of the plastic parts.
Flash of an injection molded part can happen for several reasons – slight variations in the material, pressure, speed, injection mold process and/or problems with the tooling itself.
For example,The sprue bushing is one of the reasons that can not be ignored.Need to know is that nozzle contact forces can range from 5 to 15 tons.If the thermal expansion makes the critical distance sleeve "growth" out of the parting line, the nozzle contact force enough to move the mold side, resulting in flash generation not only mold precision will produce flash operation,The operation of the injection molding is the same as the source of the problem, the mold should take advantage of the length of the hot runner bushing inspection, into the standard of each production.
Through analyze every stag of the injection molding process at our company, and ensuring consistent stress free manufacturing of your custom plastic parts.Our process engines allow us to produce tight tolerances parts for all of our customer.
https://a-mold.com/wp-content/uploads/2017/07/blog-1-2.jpg
400
400
mcgraw
https://a-mold.com/wp-content/uploads/2017/07/logo-abery.png
mcgraw
2017-07-20 12:37:16
2022-06-02 09:52:43
Problem About Molding Flash & Flashing